Best Pop Up Gazebos Canada: Pop up gazebos are an ideal investment for people who love going for frequent picnics and campouts. This little portable tent-like structure is made to combat weather conditions, enhance your comfort and one up your outdoor adventures.
A good pop up gazebo has several qualities users must look for. The most important of these is the ease of setup. I mean think about it, what's the point of equipping yourself with a gazebo that takes too much work to establish? Some other qualities one must look for in a pop up gazebo are features like durability, weight, canopy design and of course the cost.
Are you new to the outdoor tripping life and want to ensure that your trips are spectacular as always? Check out our picks for the best pop up gazebos Canada. We've included a large variety of products that have been selected on the basis of reviews, user satisfaction and all roundedness in terms of the services they offer.
Fret not, as these gazebos are ensured to protect you from the sun and make your journey as enjoyable as possible. There's also variation in color schemes and structures all to make this list ever the more versatile.
Our Picks of Top Best Pop Up Gazebos Canada Product Reviews in 2021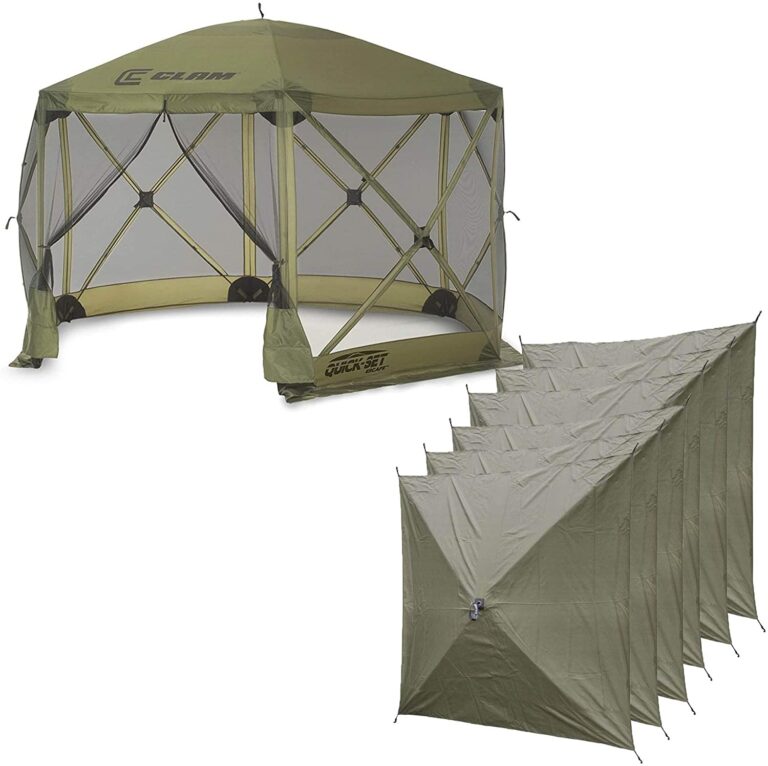 The CLAM quick set pop up gazebo is a great option for someone looking to combat winds or is trying to camp in a particularly windy biome. This is attributed to the 6 panels that come with this gazebo which can be adjusted or taken off as needed.
These panels are made of sturdy material that helps combat the wind and keep the gazebo in place. The fabric of the canopy is also made of premium material which is effective in combating the sun and its UV rays. This ensures that you have an enjoyable picnic without the danger of getting sunburnt.
As for its dimensions, this gazebo stands 7.5 feet tall and measures 12 ft by both width and base. This is big enough to accommodate almost all kinds of picnic tables along with 3 to 4 people as well.
The CLAM quick set is also very easy to set up. Upon following the instructions carefully you can set this gazebo up in no time, in fact, the manual states that it can take as little as 45 seconds if done properly.
Coming to the strength of this gazebo it is sturdy and pretty tough against wind pressure however you do have to pay a large amount of money to get this. There is also a zipper on the entry which adds to the privacy factor.
In case you plan on eating meals in this gazebo you can do so conveniently as the mesh on the body of this tent prevents bugs and mosquitos from getting it. Moreover, it regulates airflow well so you don't have to feel like you're suffocating while you're eating. It is also easy and lightweight so very portable and isn't a hassle to carry around.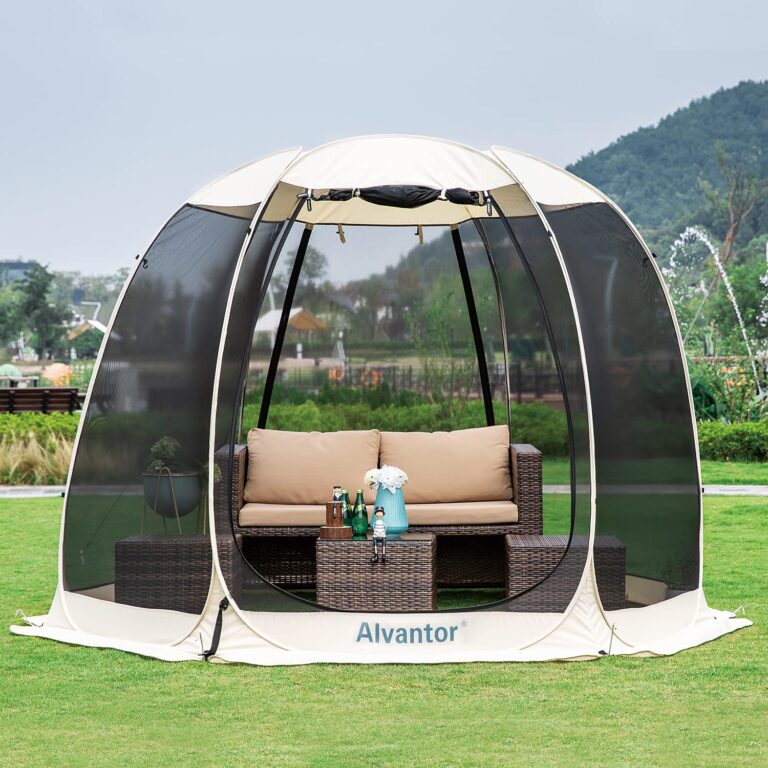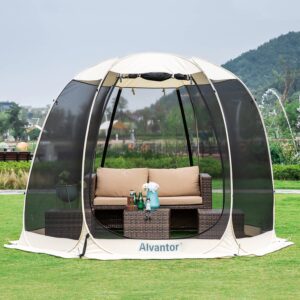 This versatile pop up gazebo by Alvantor is a great option for those who would like the privacy of the gazebo but do not want to compromise on the view at the same time. This is because this gazebo offers a durable mesh on its walls which protects your privacy but lets you see the beauty around as well.
While this gazebo offers less in terms of weather resistance it is a good product in terms of portability. This pop up canopy Canada weighs only 15lbs so whether you're a child or a senior citizen you can easily carry this around and install it.
Its dimensions are 10x 10x 7 ft which is also large enough to accommodate 4 to 6 adults. This gazebo also comes with a carry bag which you can store when it is not required. Another quality worth nothing is the frame of this tent which is made of fiberglass instead of iron. This helps for a sturdier build and makes this tent last long as it is resistant to rust and damage.
This spacious gazebo can be easily set up in any kind of patio, lawn or outdoor campsite. It also allows effective management of airflow and odor. Its fabric and hexagonal layout provide appropriate UV light and sun protection however the largest concern with this tent is that it is not waterproof thus rainy days might give you a hard time.
The inside of the gazebo features netted walls that protect your food from bugs and allow privacy. There is also an extra hook in case you want to hang up the carry bag or a purse. Overall, this is a reliable product because of its sturdy build and good wind resistance. There is also a 1-year warranty from the company!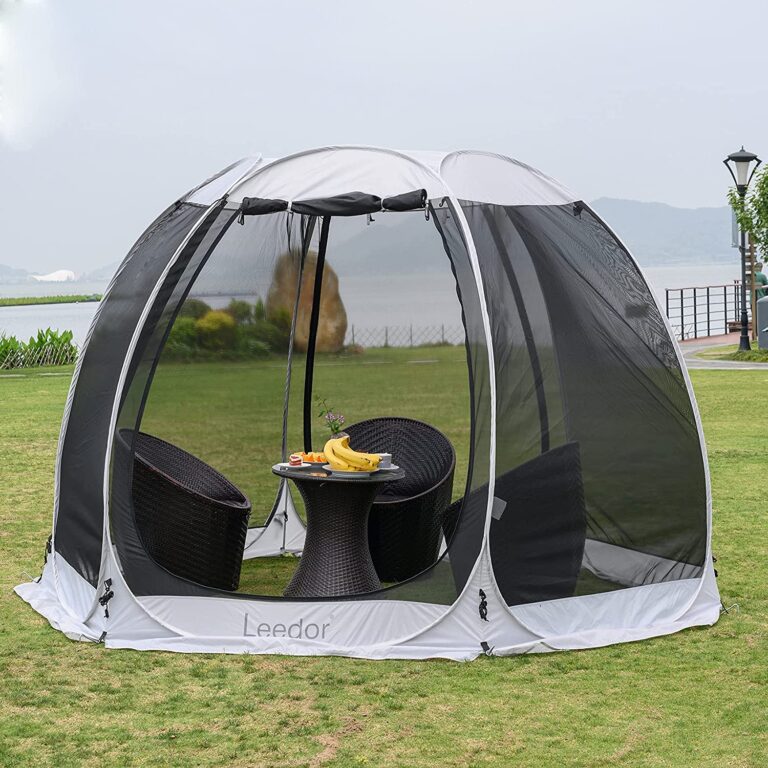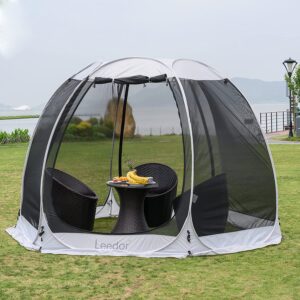 Another best pop up gazebo Canada that you should check out is Leedor's outdoor Gazebo. This is a comfy little tent that measures about 10 x 10 x 7 ft and it is easy to set up as it pops up automatically on intervention.
Disassembling is also easy and convenient. Although, you do have to steer clear when it pops up or it could hurt you. This durable gazebo is also compact and foldable so can be carried about with ease.
Like the previous product, this gazebo to features a fiberglass build which enhances the life and longevity of the Leedor gazebo.
This spacious gazebo can accommodate upto 4 to 5 adults and features 6 gauze panels for fantastic ventilation. It has exceptional wind performance due to its fiberglass rods as well as sandbags which ensure a sturdy build thus defence against wind. This gazebo has 2 passages for entry each of which are zipped to maximize the privacy factor. It also comes with multiple hooks to hang your belongings.
This Gazebo is a perfect size for all kinds of patios, lawns or outdoor sites. It features a large number of added spikes and sandbags all to add to the stability of the products. As such customers were very satisfied by the quality and loved the quality of the fabric too.
It also takes up very little space so is good for small backyards too. You can easily set up tables and chairs inside it too while avoiding bugs as well. Moreover, it's also good for snow resistance and if you'd like you can also fit in a hot tub as well. While it offers minimal rainfall resistance it does allow water to accumulate on the top so some protection can be acquired.
The ABCCANOPY portable pop up gazebo is the best option for those who want to buy something simplistic. This budget friendly option is not only easy on the wallet but also super easy to carry.
This lightweight gazebo is also extremely easy to set up. You just have to pull the bag apart to pop the canopy open but be careful when you do so. As for the frame of the gazebo, it features a high grade steel frame which helps the gazebo combat any severe winds or rain.
Unlike other gazebos the ABCCANOPY has an exceptional rain resistance. It is the best pick for waterproof pop up gazebo as users were particularly satisfied with how efficiently it dissipates rain while maintaining a cozy environment inside the gazebo.
Another point worth mentioning is that the fabric of the canopy is 150D polyester in nature, which prevents both UVA and UVB rays. This is great for optimal sun protection and picnic fun.
The ABCCANOPY measures 7 x 7 ft by the base and reaches 6ft in height which provides enough space to accomodate 6 to 7 people. This allows for a great experience that can be enjoyed by everyone.
After you're done using the gazebo you can easily disassemble its parts and tuck it away in a bag. The only problems with this gazebo is the lack of privacy, as although it provides a good covering on the top there's no proper zip to lock the entry.
Moreover, there are no sidewalls so that could be a clear cut invitation to pests! While this gazebo provides a large shade area it isn't suited for long term use as its iron frame can rust with respect to repeated usage.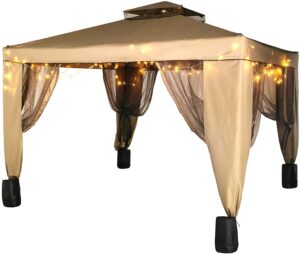 This portable gazebo by LOVSHARE is a beautiful one and it is well suited to individuals who carry frequent dine outs or hangouts in their patios. This gazebo features a 10ft wide and 10ft tall space which allows for 5 to 6 people as well as tables to be adjusted easily.
The fabric covers that top and runs down on the rods to give an aesthetic look to the gazebo. The material of this fabric is 150D polyester, again great for all kinds of sunny rays and water damage.
This spacious gazebo features a sturdy build as its support is composed of alloy steel. This helps protect it from rust and also ensures the longevity of the products. One can also attach sand bags (that are provided with this model) in order to enhance the stability on particularly windy days.
You can also attach the lights that come with this or attach your own fairy lights to the setup to optimise the beauty of this grand gazebo. As for the portability this gazebo is a little bit heavier but nothing that the average user cannot withstand. The setup consists of opening the bag and letting it pop open.
This gazebo also comes with a helpful mosquito net for those who want to keep their food away from pests and it also comes with an edge wrapping facility in case you decide you want to enjoy the view for a bit.
You can also zip up the entrance for privacy. The air circulation and ventilation in the gazebo is fantastic so whether you're setting it up for a BBQ, an event or a picnic you'll always be shaded under the canopy and your experience will be delightful. Overall it does withhold very good resistance towards all kinds of weather but it may be a little pricey for the wallet.
Final Thoughts
This concludes our list for the best pop up gazebos Canada, while all our products are exceptional in terms of their performance there is one product that really steals the spot. You guessed it! It is the LOVESHARE outdoor gazebo.
We particularly picked this item because it meets all user specifications and delivers the best quality when compared to its competition. It has minimal setbacks and is a favorite of many customers. We hope you agree with our picks and have a great shopping adventure as well as a picnic ahead of you.