Best Laptops under $1000 Canada: Buying a good laptop does not have to cost you a fortune. There are tons of great budget-friendly options available in the market today that offer spectacular performance, impressive battery life, and portability without breaking the bank.
We know the sheer number of selections can be a daunting task, which is why we created this handy, dandy list.
Whether you need a business laptop for working on the go, a gaming laptop that lets you frag on a budget or a two-in-one that allows you to transform your laptop into a tablet.
So if you're interested in buying one, we can help you with some of the best in the business.
However, there are a lot of things to consider before buying a product that caters to your needs.
Don't you worry though, we've got you. If you give us a few minutes and stick to this article, we'll run you through everything you need to know to buy a laptop under $1000 in Canada.
Our Picks of Top 5 Best Laptops under $1000 Canada Product Reviews [2021]
Review
Apple has been coming up with some of the best products and technologies throughout. We loved the previous intel MacBook air but it had a few issues and downsides. The biggest one being how dang hot it got even from the basic tasks. However, the new MacBook Air (M1 2020) is specifically exciting as it offers an inaudibility with its fanless cooling.
Like an iPad, it relies on the biggest improvement in MacBook 2020 is Apple's M1 custom SoC which is responsible for impressively fast performance and brilliant battery life. The moment you open its lid, it's ready to go and this astonishingly fast feature of M1 has awestruck us a lot. Its battery can last almost up to 18 hours which in itself is a selling point for the brand.
It's a fantastic device with the best of features and many great upgrades from the previous generation. Apple has now released the MacBook Air with the scissor-switch-based Magic Keyboard and it no longer uses the challenging butterfly keyboard. Touch ID fingerprint sensor is another projecting feature of this extraordinary product.
Additionally, this new apple product offers the best web browsing experience there is. Effortless scrolling, instant launching of apps, and immediate loading up of websites to name a few. Thinking of M1 as a course of correction on apple's part wouldn't be wrong.
If you're a gaming freak, apple has something that it never had before for you. Yes, a decent gaming performance. Apple's M1 offers up to 8 GPU cores that allow you to run 60fps at high graphic settings with ease. This ultrathin machine works as smoothly as a gaming PC.
Review
ASUS Vivo Book F510QA 15.6" wide-view laptop ended up on our list due to its incomparable graphics and speedy command dispensation. Out-of-date desktop gaming has been successively traded through the modern-day gaming laptop.
Passionate gamers meticulously look for high processing power, prevailing graphic processor, better temperature control, and heavy-duty battery power in gaming laptops which are some of the prominent features of this product.
AMD A 12-9720P quad-core processor bridges the gap between the best of the best and the cheapest of the best.
Surprisingly enough, the system's memory is satisfactory for such an affordable laptop. Additionally, 8GB RAM will suffice for your day-to-day tasks and more. Smooth web browsing, switching between apps, and progressively decent editing are some other features that Vivo Book's F510QA offers.
The only issue that we noticed is its display. Even though the resolution works fine, but if we consider brightness (200nit) and color gamut (45% NTSC), the quality is far-fetched. We'd recommend buying this laptop only if you're looking for a home/office computer that can handle web browsing, emails, office documents, and multitasking.
This is a fair laptop considering the price and sleek design. However, alternative options that you should check out are ASUS VivoBook F512FA-AB34 and Acer Aspire 5 A515-54-51DJ that are comparatively cheaper.
Review
Dell Inspiron 15 is one of the most affordable and versatile midrange laptops that the brand has to offer. We think it would be a great productivity powerhouse for anyone who doesn't need the fanciness of Dell XPS or a gaming center of an Alienware.
While it's more expensive, we like it better than most ASUS Vivo Books and Acer Aspire as well. Let's get the specs out of the way really quick. This particular test unit comes with a ryzen7 4000 series processor, 16 GB of RAM, 512 GB NVMe solid-state drive, and Vega graphics.
The best part about the NVMe solid-state drive and the RAM is that both of them are user-accessible and user upgradable. Most of the machine itself is fairly easy to repair.
For instance, an LCD screen can come out of its bezel, the bottom of the computer just sort of pops off and you can mess with it.
The entire operation of this laptop is snappy and responsive which feels good. The probably biggest trackpad that Dell has to offer feels minimalistic, modern, and aesthetically pleasing. It's incredibly lightweight that all-in-all feels fit and the finish of this laptop is quite good.
Its keypad is fairly decent and not wobbly at all. So, if you're an accountant or doing data entry of any kind, this is perfect for you. Its glossy 15.6" FHD Touch LCD screen with an anti-glare coating gives a fantastic experience of blocking out unnecessary ambient light and rich vibrancy overall.
This screen can almost work in any environment. If you're someone who needs 10+ hours of battery life, then Dell Inspiron 15 is probably not for you as its practical battery usage is 6 hours.
Nevertheless, it's respectable for most 15.6" laptops. It comes with a built-in webcam, Wi-Fi 6, Bluetooth, dual microphone, good speaker quality. Conclusively, it's a relatively good value for money.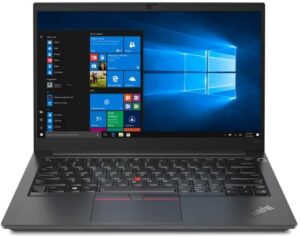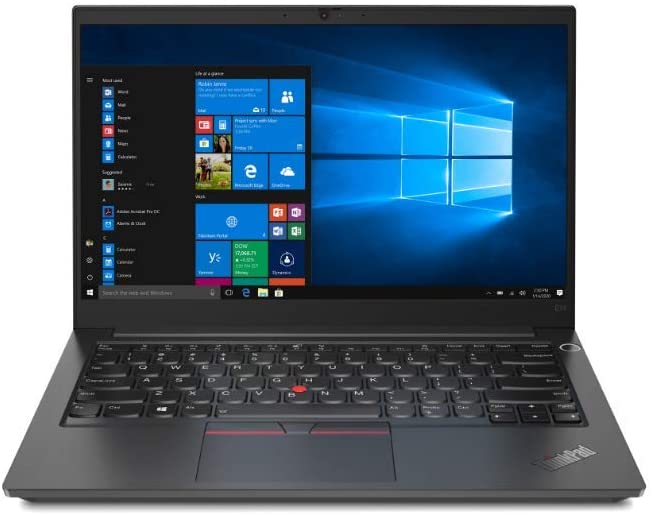 Review
What makes ThinkPad so special you ask? Their minimalist slap designs! Lenovo's E series target audience is office workers and occasional gamers. The specs of Lenovo ThinkPad E15 Gen 2. include 11th generation intel CPU i7 1165 g7 processor, 2.8 gigahertz, and 4 cores.
Let's take a quick look at the features. Some of the features on the outside include a traditional network port, gigabit Ethernet, USB, USB-C, HDMI, and a headphone jack.
A TN panel with HD resolution (1366x
) and an FHD touch screen (1920×1080) based on IPS technology are the two matte screen options that Lenovo is offering.
As most of Lenovo's, E15's keyboard is soft which has a number pad that can be helpful for people who do accountings or math-related things.
As per the legacy, IBM products have a little joystick in the middle that you can move the mouse around with.
It has got a fingerprint reader as well as a regular trackpad. Moreover, it has a webcam of 720p, a built-in Wi-Fi of 802.11ac, and is relatively light. The top is made of metal while the bottom is plastic. Lenovo's general age quite well as they're sturdy which is one of the reasons, we recommend considering them.
The screen doesn't reflect too much light so it should work well in sun-lit areas as well as dark environments. CPU is fairly good giving you a base of 2.8 gigahertz and it turbos to 4.2 gigahertz. Intel, Iris, and XE are built-in that give you a bit more oomph from a GPU point of view. It's not as good as having a real dedicated GPU.
However, this is certainly a bonus to the older GPU built into the CPU itself. 512 SSD drive name is used in this E15 product so the read rights are somewhat acceptable and it's relatively faster than the older SSD drives.
Overall, it's a well-designed and good workhorse for office work, web browsing, other applications, and even light gaming. If you want a heavy-duty game to work on it, I'm sorry this is not for you.
Review
The LG Gram 15 (2018) boasts 8th generation processor, longest battery life, a USB C port that now supports Thunderbolt 3, a fast fingerprint reader built into the power button, and a few other little tweaks here and there all while being the world lightest 15.6" laptop weighing just 2.4 ponds has to top our list of favorite laptops under $1000.
It's nearly half the weight of the Dell XPS 15 and it is a wow sort of moment. When you first pick it up it feels like the battery is missing or something. While it doesn't reach LG's quoted life of 16 and a half hours of battery life, it's still very good giving 11 to 12 hours of life.
LG gram comes in 13,14 and 15-inch sizes which gets you an i-5 8250 8 gigs of RAM and a 256 gig SSD. We think it's the best option for pretty much everything you'll need including a bit of photo and full HD video editing.
However, the disappointing bit is there's no option for any sort of dedicated graphics card on any of the specs, and even a $2000 model struggles a bit with intensive 4k video editing or any sort of serious gaming for example 'rise of the tomb raider' at 720p with just medium settings averaged 15 FPS.
Nevertheless, we were happy about how the laptop doesn't get loud or hot even under load. LG gram isn't meant to be a high-end performance or gaming laptop. One reason you may want to pay a bit more to get the i7 double of RAM and more storage is if you want to take advantage of the new Thunderbolt 3 supported USB C port.
Speaking of ports, you also get three USBs, a full-size HDMI, DC power between half a mile headphone jack, and a micro-SD card. It's a smart-looking laptop although tapping the screen does make it wobble quite a bit which can be a bit annoying. We recommend buying this all-rounder Ultrabook and a solid step-up from predecessors. In addition, one strong competition of LG Gram is ASUS Swift 5 which we recommend checking out.
Final Thoughts
A good breakdown on how to find the best laptop basically depends on your needs. Here are few questions that you might want to consider before spending your money. First, how much are you willing to spend? Second, do you want a 2-in-1 or a high-performing laptop?
Third, what do you need it for? For example, are you a student, or an office worker, a random internet surfer or a passionate gamer? Fourth, what specs do you want in your laptop? Having clear answers to all these questions will surely help you find the right pick.