Whether you want to grind up some cold smoothies or extract the goodies from a kale salad (without actually eating the greens), a good blender should be able to whip stuff up for you effortlessly. While it is true that some blenders can cause you to think twice about your purchase, it doesn't always have to be the case. If you, too, are looking to buy a quality blender that doesn't leave your smoothies looking like froth or turns your nut butter into thin cream, check out our list for the best blenders Canada.
A good blender has several traits to look for. The best choice for everyone is different and essentially is based on personal preference. Nevertheless, speaking from a broader perspective, some of the most crucial elements to assess before finalizing your blender purchase is the frequency of use, power, pitcher capacity, and material, as well as budget.
Lucky for you, we've cut down the hard work and assembled a list of some of the best blenders worth investing in. We've included an extensive range of products, all to make your shopping experience a pleasure!
List of Top 5 Best Blenders Canada Product Reviews in 2021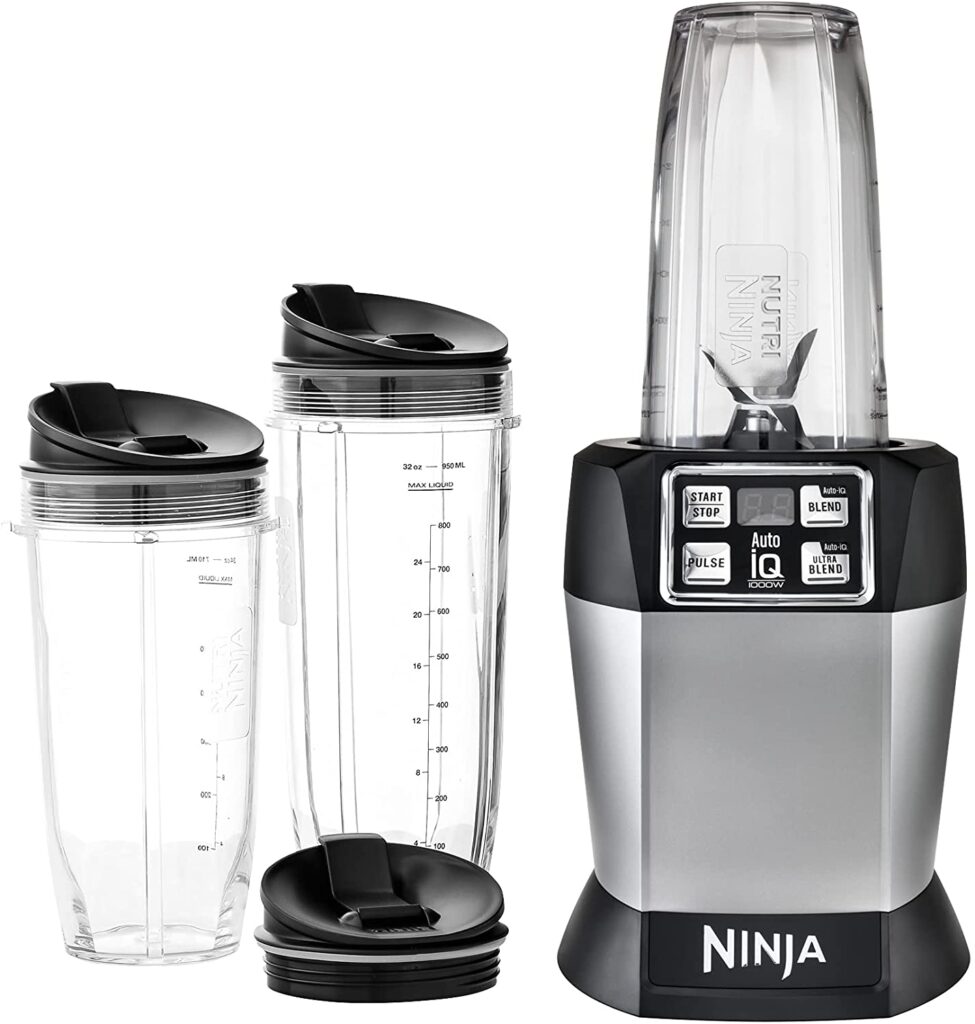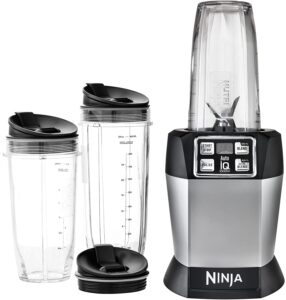 Ninja appliances are some of the best and most reliable kitchen tools in the market. On a general note, their blenders are best sellers and count as one of the best blender brands, mainly because of their longevity and impressive build quality. Some consumers may hesitate to buy the Ninja Nutri Blend because it features a plastic pitcher. However, what you don't know is that the plastic is of good quality and still manages to serve as a solid option for your blending needs. Some comment that it's even better than glass!
As for the performance, this blender is excellent for blending frozen fruits and vegetables because of its 1000 Watt motor, which sustains enough power to crush right through them. Moreover, it also features sharp extractor blades that rotate and pause in order to ensure that the contents have settled and thoroughly blended. This intelligent technology not only ensures a finer/smoother blend but also ensures proper extraction of nutrition from tough foods like leafy greens or chia seeds.
In terms of blending options, the Ninja Nutri Blend features two blend settings. One is the Auto- IQ blend which is for softer foods, and the other is the Auto-IQ Ultra Blend which is for harder foodstuffs like frozen berries, vegetables, or nuts. As per reviews, the Ultra blend setting is fantastic in terms of operation. The machine faces little to no challenge in quickly liquefying even the hardest of nuts and berries. And finally, this blender comes with 3 cups, each with the capacity of 32 oz, 24 oz and 18 oz. Therefore, you can customize the capacity according to how much you need to make or put on a lid and take that smoothie away for work! And don't worry about the spills. These sealable lids for the carry-to-go cups are airtight quality material and spillproof. Overall, this blender is an excellent option for the price; however, the only setback you might face is cleaning the equipment.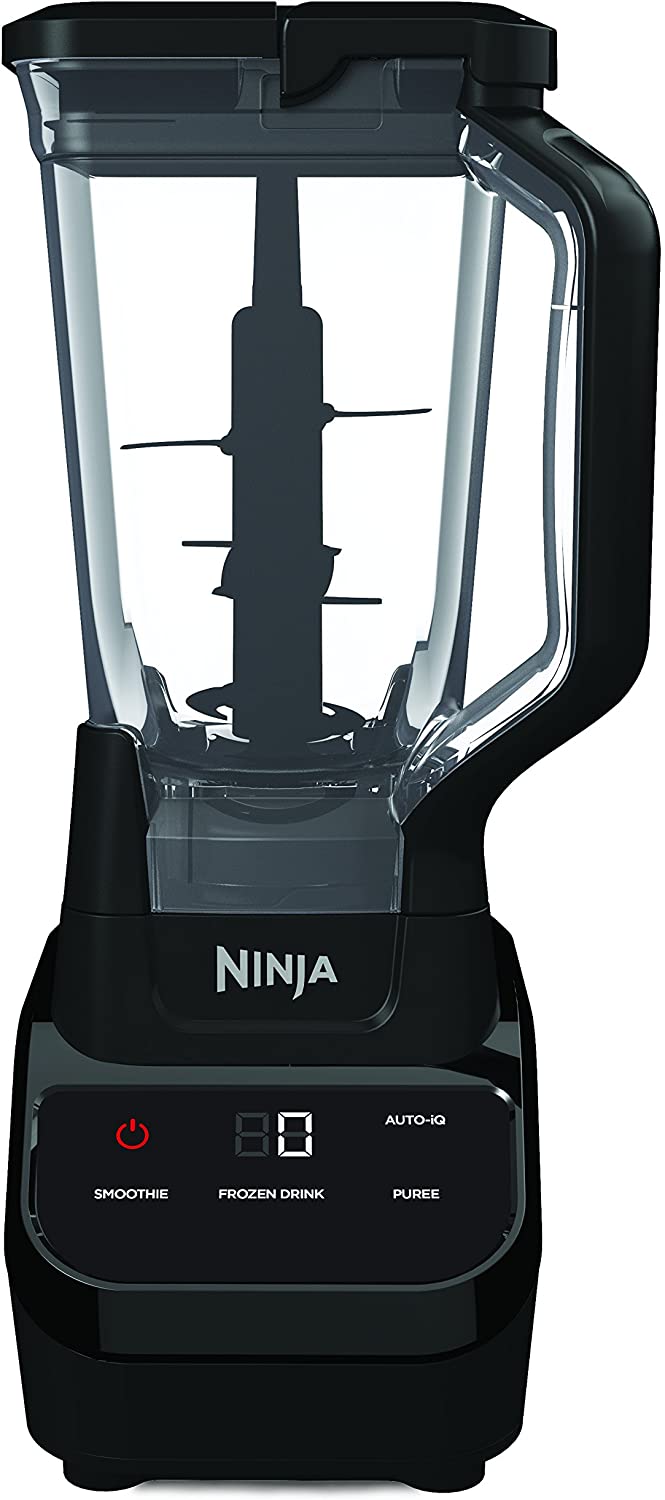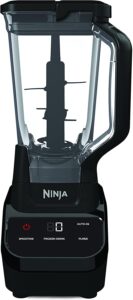 Another good product that you should check out is the Ninja CT610C. Like the Nutri blend, this product, too, is manufactured by Ninja appliances. However, in comparison to the Nutri blend, this blender is easier to clean and operate. Instead of using buttons or dials, this blender features an intuitive touchscreen that allows users to navigate through multiple options easily. Speaking of blending options, the Ninja CT610 offers two modes of mixing.
An auto-iQ mode that comes with preset options so you can make that smoothie quickly without wasting too much time. Then there's also a manual mode for you to experiment with those recipes first hand. The pitcher aids a capacity of 72 oz, which is good if you're making something for a large number of people to enjoy. However, it doesn't come with portable cups, so that may be a disadvantage. For cooking enthusiasts, this setup also provides a cookbook with 35 recipes; this is great for those who wish to experiment with this blender.
Consumers report that the blender performs well when it comes to blending ice and leafy greens, but the plastic nature of the model is a setback when it comes to blending hot soups. Another point worth noting is the blade assembly. Unlike other blenders, the Ninja Professional comes with a stacked fashion of blades which has won a mixed number of opinions. The majority of users have commented that the blades are incredibly sharp; hence they provide a fine quality of cut. They've also commented about how the attachments are easy to clean and dishwasher safe. However, some customers have also said that the organization makes it difficult to clean and presents as a safety hazard.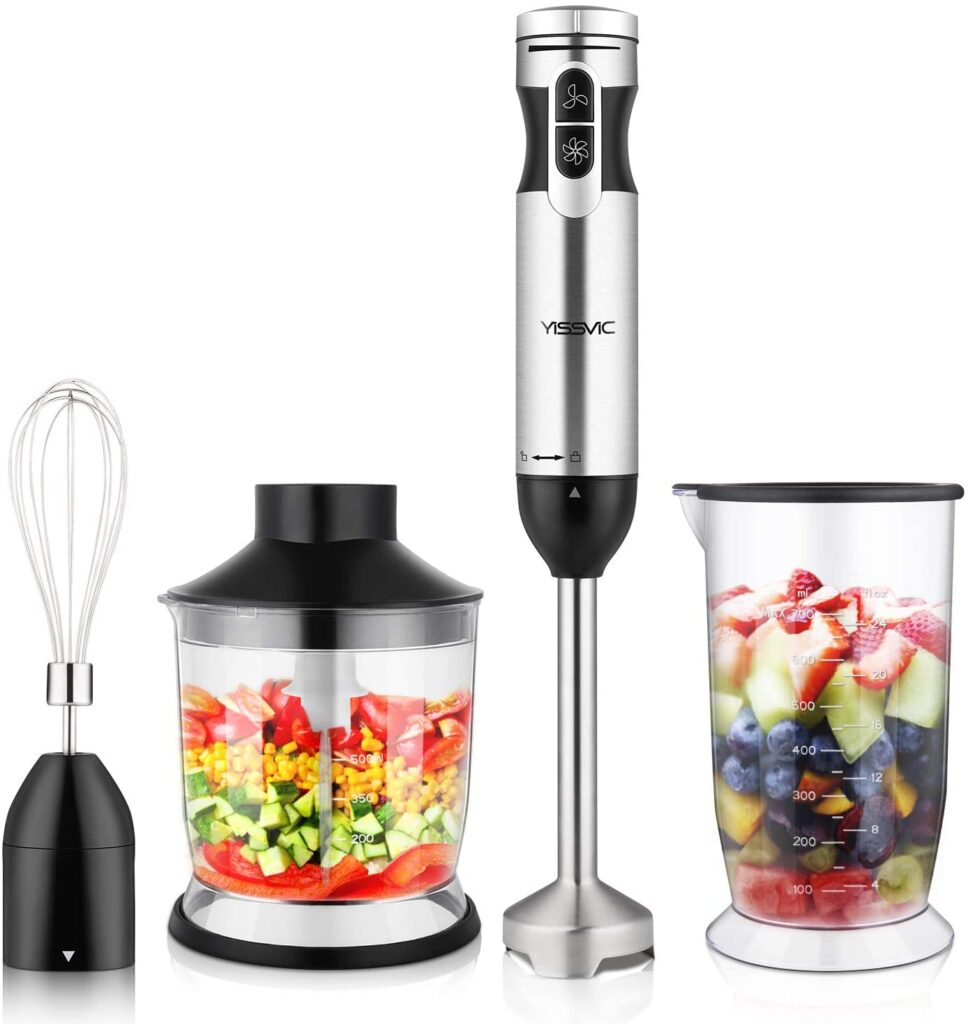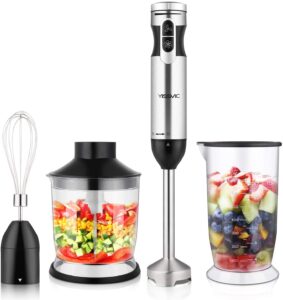 For the third product on our list, we've included a handheld blender. This is highly recommended and is the best blender for everything. For users that require low volumes or more refined purees, immersion blenders this is a very good option to invest in. This is because not only are these blenders convenient to use, but they are also more focused and rely on physical intervention, unlike the rest of the options. In simple terms, the user is free to blend according to their preference instead of relying on a bunch of settings.
Starting off with the pros, this blender has a power of 1000 watts with nine different speed controls. The large variety of blending speeds and high power ensures a more refined mixing, blending, pureeing, and whisking ability that can be done quickly. Another thing we love about this blender is its versatility. This tool is a 4 in 1 immersion blender, so it comes with different adjustable blades which can also alternate as a whisk, chopper, blender, and mixer. So instead of just juices and smoothies, users can achieve a larger range of salsas, smoothies, sauces, and creams with this blender.
As for the design, the body of this blender is of stainless steel; thus it provides a more sturdy grip for users. In order to change the speed settings, there's a flexible spiral speed controller provided on top of the blender, which allows for easy twisting and turning. Moreover, unlike standard blenders, the engine of this handheld blender makes almost no noise which is perfect in case you decide to whip up some recipes that require peace of mind. Just saying, whirring up some cake batter for a surprise party will be simpler with this bad boy!
Finally, It comes along with 2 different containers; a 17 oz food processing cup and a 24oz blending cup. Unfortunately, this hand blender doesn't provide any carry-on-the-go cups, nor is it the best option for coffees and milkshakes since it is more cornered towards cooking. Overall, this product works like a charm and is even safe for processing baby foods and hot soups. The only setback worth mentioning is the cleaning part and that the blender doesn't offer continuous control.
Instant Pot is a well-known Canadian company that features a multitude of reliable kitchen tools. Its blenders offer a large number of features that allow you to really get creative in the kitchen. What makes the Instant Ace Plus different from its competition is that the manufacturers provide users with glass pitchers instead of plastic. This is beneficial as glass does not get discolored or damaged. Nor does it trap odors, unlike plastic pitchers do. Moreover, glass pitchers tend to last longer and are also more durable than their plastic alternatives.
Coming to the meal prep factor, the Instant Ace Plus allows a large variety of ingredients to be blended. Its powerful motor features a wattage of 1500 Watts. This allows the blender to support cold foods, hot soups, nuts, berries, and ice without frustrating pauses. This easy-to-use tool also offers 3 manual speed settings to prepare according to your time, and it even offers an interactive display that lets you view the temperature of what you're blending. This can be immensely helpful for recipes that require a specific temperature to them. There are also eight customizable programs that you can toggle through in order to instantly prep up some smoothies or purees.
Want to share your icy goodies? The Instant Ace Plus comes with one 54oz pitcher so you can prep up a larger amount of your desired beverages. Like most units, sadly, there are no carry-to-go cups with this model too; however, the blend quality makes up for the loss. The only disadvantage of the Instant Ace Plus is its bulkiness and loudness. Customers have remarked that it takes up quite the space on the counter.
5.Oster 8-Speed Blender, Red – BLSTMG-R00-33A
This little guy is perfect for those individuals that are tight on a budget. In less than 50 CAD, it offers a decent performance that is comparable to some good brands out there. So if you're looking for easy milkshakes and iced coffees without straining your wallet, this best blender Canada is the perfect kitchen companion for you.
The Oster Blend comes with a power of 700 watts which may be a little less if compared to other models but is decent enough to offer a fair blend. The construction of the base is metallic; hence it provides a longer life compared to plastic models. The pitcher is made of heat-resistant glass, and surprisingly its quality is impressive for the price. Users report that they can blend hot soups and ice effortlessly, further evidencing the superior performance of this blender. There are no complaints of leaks from the pitcher as well, again aiding to its durability factor.
Another remarkable fact about this product is that you can also choose a variety of colors for this blender. Currently, it comes in shades of black, white, and red. Plus, it features an attractive design as well, so you can match it according to your kitchen's aesthetic and win those praises. Furthermore, its cut quality is enhanced with a special ice-crushing blade that chops up any kind of ingredient in a snap. Unlike most blenders, this product doesn't give you a hard time cleaning, and it is also dishwasher-friendly. Lastly, you can choose between 8 speeds for a precise blend, and you can also select the pulse feature for pulverizing harder nuts and seeds.
Final Thoughts
This concludes the list of our picks for the best blenders Canada of 2021. While all the products are exceptional in performance and quality, if we had to make a choice for one top product, it would definitely be the Instant Ace Plus. This is primarily because it offers a minimal number of disadvantages and a significant number of features in comparison to the rest of the blenders. We hope you enjoyed our selection and have a great shopping adventure ahead of you.